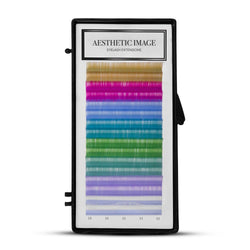 Pastel Color Lashes
Our Luxury Silk Lashes come with 16 rows of lashes per tray! Created using the highest quality fibers to give softness and flexibility to the lash extensions. These lashes have a gorgeous color finish and an elegant taper that starts just above the mid-point of the extension. With precision manufacturing, the lashes are always created to the highest standard for upholding their curl and beauty.
Each strip of lashes includes the length listed on both sides for easier organization of your lashes!
These colors are beautiful!