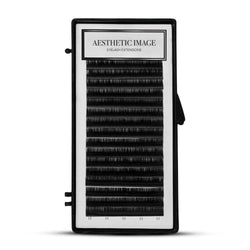 D Curl Lashes
Our Luxury Silk Lashes come with 16 rows of lashes that are a beautiful satin finish for stunning eyelash extensions. These lashes are made of the finest quality PBT materials and are manufactured to the highest standards.
Deep and rich black color
Satin finish
The elegant taper that begins just above the midpoint of the extension
Finest quality PBT materials
Soft and luxurious
ABOUT THE CURLS
B CURL: A NATURAL LOOKING CURL
C CURL: HAS MORE CURL THAN B, BUT LESS THAN D (MOST POPULAR)
D CURL: A MORE DRAMATIC CURL (MOST POPULAR)
L+: HAS THE LOOK OF A D CURL BUT A FLAT BASE. A GREAT OPTION FOR CLIENTS WITH MONO LID OR A HEAVY EYELID WHO WANT THE LOOK OF A D CURL. 
L: THIS LASH DOESN'T CURL, BUT HAS A LIFT. 
ABOUT THE DIAMETERS (THICKNESS)
MEGA VOLUME (VERY THIN LASH) : .03 .05
VOLUME (THIN LASH): .06 .07 .10
CLASSIC: .12 .15 .18 .20